Methodological and scientific approach into the process of calculation a multilayer underground protective structure
Keywords:
floor, protective structure, mattress, scattering, distribution layer, soil thickness, projectile, impact action
Abstract
During the Joint Forces (anti-terrorist operation) operation in Donetsk and Luhansk oblasts, civilians and the Armed Forces suffered significanted losses.
As a result, we have needed to study impact various weapons on structure roof of buildings which built of different materials to improve protective properties is becoming relevant.
Therefore, in modern conditions, design of structures and their elements is not possible without taking into account impact of shells. When designing and constructing structures, it is always necessary to take into account resistance of structural elements to impact of damaging factors, both explosion in general and destructive explosion in particular, which will help avoid future possible human losses.
The article presents model of calculation shell penetration into soil thickness covered shelter, consisting of scattering, mattress, distribution layer, load-bearing structure and impact of shells, mines and air bombs to penetrate the thickness of closed structures.
The purpose article is to highlight main provisions scientific and methodological approach to calculation multilayer underground protective structures and studies impact of projectiles on multilayer underground protective structure.
Our research shows that to determine protective thickness mattress of structure, during penetration of ammunition, first of all, should take into account resistance to scattering, and to determine thickness distribution layer resistance of mattress.
Depth of penetration projectile into thickness floor structure will depend on: mass, diameter, shape of main part projectile, as well speed and angle at meeting of projectile with the floor structure.
References
Military fortifications. – Moscow: Military Publishing House, 1984. – 720 p. (in Russian).
Kushnirenko M.G., Vorovich B.O., Lisnevsky V.V. Building materials, structures and basics of mechanics of military engineering structures. Kyiv: NAOU, 2000. – 67 p. (in Ukraine).
Tuzikov S.A. Analysis of requirements for protective structures of civil defense and methodological approaches to their classification / S.A. Tuzikov, S.O. Kovzhoga, EV Pocket, AF Lazutsky, A.V. Pisarev / Collection of scientific works of HUPS. – 2013. – №1(34), P. 186-189. (in Ukraine).
Kobylkin I.F. Shock and detonation waves: Research methods / I.F. Kobylkin, V.V. Selivanov, V.S. Soloviev, N.N. Sysoev – Moscow: Fizmatlit, 2004. – 375 p. (in Russian).
Vasilchenko O.V. Building constructions and their behavior in the conditions of emergency situations: Textbook / O.V. Vasilchenko, Y.V. Kvitkovsky, О.А. Wheelman. – Kharkiv: KhNADU, 2015. – 488 p. (in Ukraine).
Mkrtychev O.V. Calculation of structures of a reinforced concrete building for explosive loads in a nonlinear dynamic setting / O.V. Mkrtychev, V.B. Dorozhinsky, O.V. Lazarev / Bulletin of MGSU. – 2011. – No.4, S. 243–247. (in Russian).
Mukhin V.I., Rybakov A.V., Vildanov R.R. On a computational model for assessing the damaging effect of an air shock wave from conventional weapons. / Izvestiya of the Institute of Engineering Physics. – 2017. – №1, P. 58-63. (in Russian).
Kvitkovsky Yu.V. Determination of shock wave parameters formed during the explosion of a gas-air mixture. / Kvitkovsky Yu.V., Prokhach E.Yu. / Collection of scientific works of UCZU. – 2006. – №4, P.120-124. (in Ukraine).
Ananich S.A., Buznik P.K., Sukharev A.I. Fortification. Textbook of military engineering schools. – Moscow: 1964. 445 p. (in Russian).
Methodical recommendations of the order of the engineering equipment of positions of divisions of antiaircraft missile troops of air forces of ZSU / Ya.V. Biletsky, G.A Keith, W.L. Freebies. K.: KP ZSU. 2019. 167 p. (in Ukraine).
Ovcharenko V.A., Podlesny S.V., Zinchenko S.M. Fundamentals of the finite element method and its application in engineering calculations: an initial manual. – Kramatorsk: DSEA, 2008. - 380 p. (in Ukraine).
Vasilchenko V.P. Fortification equipment of positions and areas of deployment of troops: textbook. manual. Moscow: VIA, 1990.184 p. (in Russian).
Manual on military engineering: textbook. manual. Moscow: Military Publishing, 1984. 575 p. (in Russian).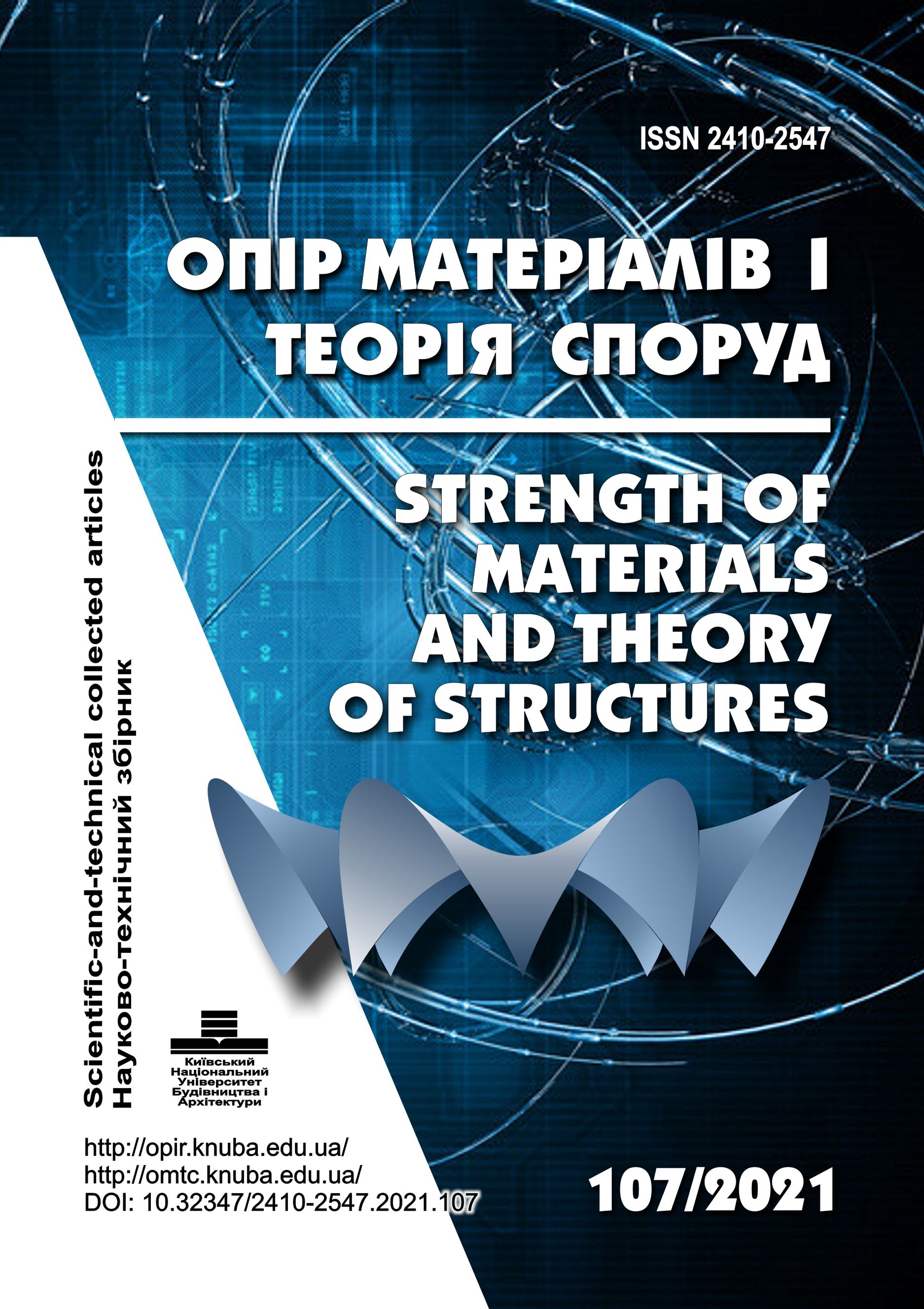 Downloads
License
Copyright (c) 2022 Володимир Коцюруба, Іван Даценко, Володимир Дачковський, Руслан Черевко , Ольга Андрощук, Андрій Цибізов, Володимир Кривцун
This work is licensed under a Creative Commons Attribution 4.0 International License.
Authors retain copyright and grant the journal right of first publication with the work simultaneously licensed under a Creative Commons Attribution License that allows others to share the work with an acknowledgement of the work's authorship and initial publication in this journal.